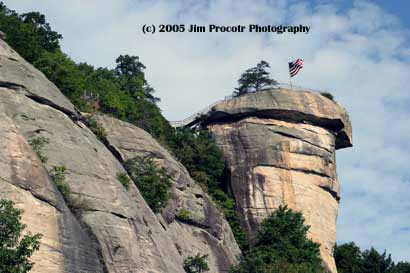 Hiking in Chimney Rock State Park Whether you want a forest stroll to the bottom of The Hickory Nut Falls or you're a serious hiker, plan your day to hike the trails where movie classic, "The Last of The Mohicans" was filmed. The incredible natural chimney, rock outcroppings, waterfalls, and trails in this now North Carolina State Park are amazingly beautiful and just happen to be a perfect place to spend a day. If you are not a hiker, ride the elevator up to the Chimney for amazing views. Only one mile from Pine Gables Cabins.
The "Beach" at Lake Lure and "Waterworks" featuring slides, bumper boats and water games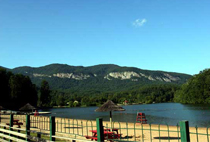 Boat rentals and guided boat tours offered by Lake Lure Tours. And the Lake Lure Adventure Company offers boat rentals, waterskiing, wakeboarding / wakesurfing and many more watersports adventures. Bring the whole family for a day of fun in the sun on Lake Lure!

Scenic horseback riding on mountain trails. Swim with your horse across a mountain river. Ride, fish, and camp in a 2-night packing trip. Pony rides for children. Call 866/206-0235 for details.
2 Championship golf courses and one nine hole municipal nine-hole golf course. Golf like you've never seen it before!

And just an hour away, The Biltmore Estate is a perfect day trip during your stay. Enjoy your trip back in time, touring the house, gardens and winery.
Take a tour of local produce and crafts farms and stores.
Take a Drive on the Blue Ridge Parkway (35 minutes to the entrance at Milepost 384.7 in Fairview)
Go North on the Parkway to visit:
You can learn about hiking and camping in the mountains with interactive programs and fun events at the Cradle of Forestry in the Pisgah National Forest. Our favorite event is BUG DAY. Less than an hour's drive from Lake Lure, this is a fun and educational day trip.
Tennis courts and playgrounds near the Lake Lure Marina and only a short walk from our cabins!
Downtown Hendersonville: Located just 18 miles from Pine Gables, the historic district of Hendersonville offers delights in food, dining and plenty of shopping for everyone. Take the stroll and join the fun of the Summertime Monday's and Friday's street music and dances with live music and vendors. The annual NC Apple Festival is held on Labor Day Weekend. Visit the Mineral Museum, Thomas Wolfe's Angel, and more!
Downtown Asheville: Asheville's lively downtown has great architecture, interesting museums, 200 locally owned stores (including a dozen antique shops and 30+ art galleries) and 50 restaurants. Don't miss the Grove Arcade. A creative way to see downtown is the Urban Trail, a self-guided walking tour of 30 sculptures that depict tidbits of local history. Only 40 minutes from Pine Gables Cabins. http://www.romanticasheville.com/index.html
Want a great walk or mountain bike trails to see a variety of waterfalls, try Dupont State Forest.
For other waterfall hikes click here.
In the summer nothing beats whitewater rafting in one of the nearby rivers! Canoe, Raft or Kayak on the French Broad River through the Biltmore Estate, at Southern Waterways. (45 minutes away) or Canoe, Kayak or Tube the French Broad River with Headwaters Outfitters or even Go Whitewater Rafting at Marshall
Go Hiking on Mount Mitchell, the highest peak east of the Mississippi ( 1 hr. 20 minutes away)
Visit the Linville Caverns ( map) on the way to Grandfather Mountain ( directions) (2 hours away)
Canopy Ridge Farm
Zip Line - Tube - Kayak
(828) 625-4500